Are you looking for fun things to do with the family this summer? Try taking a driving trip together!
Taking a driving trip with your family can provide you with a change in scenery to promote relaxation and fun. Don't forget, a few hours in the car can encourage some family bonding time too! Read our blog below for driving tips and routes that you can take near the lower mainland.
9 Tips for Planning a Family Driving Trip
Planning a trip for the whole family can be tough so here are some tips that might make the process easier. We hope you enjoy your family driving trip this summer!
Tip #1: Know your family's travel style.
Everyone has a certain travel style that makes them feel comfortable, some prefer a detailed itinerary and some like to make decisions along the way. Planning your family trip according to their travel styles can make your trip enjoyable for every member of the family.
Tip #2: Create and map out your itinerary.
It's important to map out your itinerary so you are taking a route that highlights the scenic site and out-of-the-way attractions that you'd like to see. Make sure to check out Google Maps to get clear instructions and directions for your route.
Tip #3: If you need lodging reservations, make it in advance.
Driving for hours can be tiring so it's a good idea to have lodging reservations beforehand so you can guarantee a comfortable rest each night.
Tip #4: Research attractions along the way.
When you've set your route–research some attractions along the way to make your trip more enjoyable. This can give you the option to get out of the car and stretch your legs along the way. The Internet, guidebooks and smartphone apps are all good resources for finding sites that
Tip #5: Create a realistic budget.
Stress over money can ruin a trip so make sure you know your costs before you start your trip. Research how much your lodging costs and well as admission fees for attractions that you plan to see. To calculate your driving distance and gas, use Internet mapping sites. Make sure to throw in a little money for emergencies, souvenirs and unexpected attractions along the way.
Tip #6: Plan ahead for pets.
If you're planning to bring a pet along, make sure that you bring an appropriately sized carrier so that your pet is safe during sudden turns along the way. Stop every two or three hours so your pet can walk around and stretch. Don't forget to bring your pet's medical records in case of an emergency.
Tip #7: Think comfort.
Even if you're driving for two or three hours, bring your favourite tunes or some movies (if you have a DVD player in the car) so that you and your family can remain comfortable. If you have a longer trip, bring some games to play with your family on the road.
Tip #8: Pack a cooler.
A cooler is a great way to store drinks for the road and can also help save money on dining costs. If you'd like snacks along the way, stop by a local grocery store to buy muffins, fruit or sandwiches to store in your cooler.
Tip #9: Service your vehicle before-hand.
There's nothing worse than having road trouble during your trip and it happens more than you'd think! To ensure your safety, make sure to get an oil change and safety checks for your battery, breaks, tire tread, tire pressure and fluid levels.
3 Short Drives to Take Near the Lower Mainland
1. Agassiz-Harrison Mills Circle Farm Tour
Length: A few hours
Distance: 37 kilometers (23 miles)
The Agassiz-Harrison Mills region had lots of fun activities for the whole families to enjoy. Make sure to visit farm-gate vendors, markets, delicious eateries, heritage sites and wineries along the way!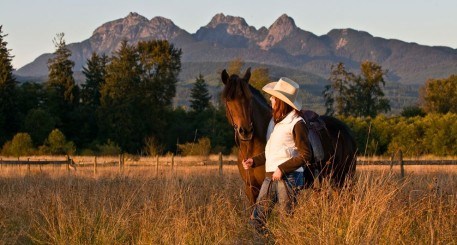 2. Pitt Meadows-Maple Ridge Circle Farm Tour
Length: A few hours
Distance: 43 kilometers (27 miles)
If you live near Pitt Meadows or Maple Ridge, check out this short scenic route close to home. Enjoy blackberry wine, taste delicious fruit and visit the fragrant lavender shop on the way.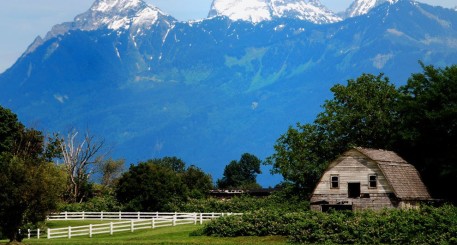 3. Chilliwack Artisan Tour
Length: 1 day
Distance: 83 kilometers (52 miles)
Experience unique and beautiful pottery and paintings, from aboriginal art to massive metal sculptures. Make sure to stop by Greendale Pottery and Country Guest House for diverse masks, prints and jewelry. If you're family appreciates and loves art, this is the scenic route for you!
5 Long Drives to Take Near the Lower Mainland
If you're looking to spend quality time with your family this summer-take a longer road trip for more family bonding time!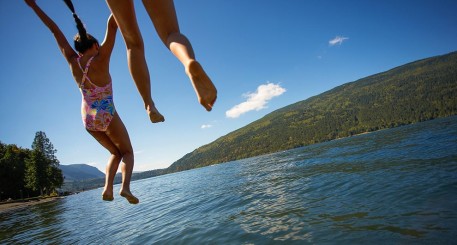 4. Mighty Fraser Circle Route
Length: 1-3 days
Distance: 668 kilometers (415 miles)
Drive along the Fraser River and visit the lively communities with their own history and fun activities. The Mighty Fraser Country destination stretches from Langley and Pitt Meadows to Hope and Manning Provincial Park. Enjoy the beautiful scenery and sites along the way!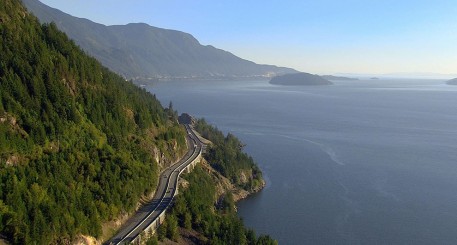 5. Sea-to-Sky Highway
Length: 1-3 days
Distance: 131 kilometers (81 miles)
If you live around North Vancouver, drive along the Sea-to-Sky highway and enjoy the scenic ocean vistas, soaring mountains, dramatic waterfalls, local communities and beautiful parks along the way. If you want to take a longer trip, visit Whistler for zip lining and hiking!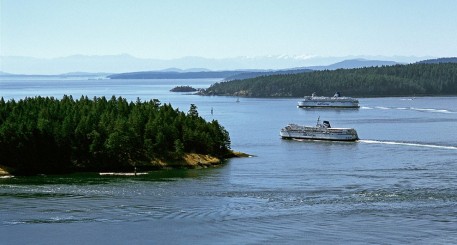 6. BC Ferries Route
Length: 3-7 days
Distance: 1, 049 kilometers (652 miles)
Drive from Vancouver to Port Hardy and explore the seaside communities, gardens and underground caves. If your family would rather take the ferry, choose from two BC Ferry routes: the Inside Passage or the Discovery Coast Passage—you may see some whales along the way!
7. Ranchlands and Rivers Circle
Length: 3-7 days
Distance: 836 km (519 mi)
If you love the historic Gold Country, then this is the route for you! Experience the beautiful alpine mountains, wildflower meadows and sagebrush scented desert in the outdoors. Spend time with the family by rafting in the Fraser River or horseback riding.
8. Vancouver to the Rockies
Length: 7-10 days
Distance: 1,950 kilometers (1,211 miles)
The Rocky Mountains are one of Canada's most beautiful and inspirational sites! This driving trip starts in Vancouver and takes you through the Continental Divide to the Rocky Mountain and along the scenic Icefield's Parkway. It's a week-long trip, which allows you to spend quality time with the family along the way.
Don't forget to enter into our contest for your chance to win $100!