The winter season is a unique opportunity to join the Vancouver community in celebrating Christmas. Whether you want to see a play, walk streets lined with colourful lights, or take advantage of some winter markets, there are many things to do in the city this time of year. Check out some of these events if you're looking for holiday activities in the Greater Vancouver area.
VanDusen Festival of Lights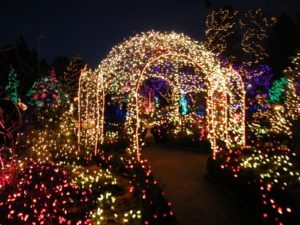 One of the best ways to get into the Christmas spirit and celebrate this special time of year is to walk the streets of a real-life winter wonderland. The VanDusen Festival of Lights creates the perfect backdrop to get your fill of holiday cheer with a display featuring over 1 million lights strung across the VanDusen Botanical Garden.
There are dozens of things to do here other than admire the beautiful lights. The price of a ticket includes a free ride on the Air France carousel, and activities such as Storytime with Santa and the Vancouver Puppet Theatre are excellent for children. Everyone will enjoy the dancing lights show, which occurs every 20 minutes, and live musical performances are scheduled throughout the month on the festival stage.
The festival runs from Dec. 1 to Jan. 7, 2018.
VanDusen Botanical Garden is located at 5151 Oak Street Vancouver.
Tickets can be purchased online or at the gate. Online prices are cheaper, and seniors, teenagers, and children receive a discount. Garden members also receive a special price for admission.
Lights of Hope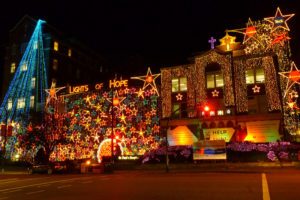 For another winter wonderland experience, plan a trip to the annual St. Paul's Hospital Lights of Hope event. This year marks the 19th celebration of St. Paul's light show and community celebration honouring the hospital's caregivers, patients, their family members, and sponsors. Visit to see the lights, listen to Christmas carols, grab a bite to eat at a nearby food truck, and shop at the stores lining Burrard Street.
The lights are up from Nov. 16 to Jan. 8.
The hospital is located at 1081 Burrard Street.
There is no charge to see the display.
Vancouver Christmas Market
The Vancouver Christmas Market, another annual event, is a comprehensive Christmas tradition featuring lights and a walk-in Christmas tree, over 75 huts for shopping, live entertainment, and an exquisite selection of foods and drinks. The Christmas Carousel will again be set up downtown, and visitors will have the chance to meet Santa and snap a photo.
In addition to these activities, you can stop by from Dec. 16 through Dec. 24 for the Children's Wish Week, when you'll be able to donate and/or purchase a wish wand to support the Children's Wish Foundation.
If you come by Wednesday, Dec. 6, from 5 p.m. to closing, you can take advantage of Deluxe Date Night. Special buy-one-get-one discounts will be available from select food and clothing vendors, and other shops will be offering "tastings for two" of snacks, drinks, and even some adult beverages.
The Vancouver Christmas Market runs from Nov. 22 to Dec. 23 and is open from 11 to 9 p.m. Its hours of operation on Christmas Eve are from 11 to 6 p.m.
The Vancouver Christmas Market is held at Jack Poole Plaza (1055 Canada Place).
Children under 6 years old are admitted for free. Early Bird tickets and Group Tickets are available for lower prices, and visitors can purchase season passes as well.
Bright Nights Christmas Train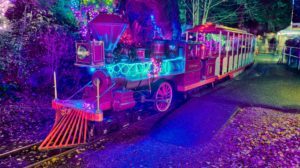 The Bright Nights Christmas Train in Stanley Park is a fantastic way to celebrate the season with your family. The park will be lit with 3 million lights, and guests can purchase tickets for a ride around the park on the Bright Nights Train. Donations and a percent of ticket sales support the BC Professional Fire Fighters' Burn Fund.
The event runs from Nov. 30 to Jan. 6. (but is closed on Christmas). Ride the matinee train on Fridays through Sundays from 10 to 2:30 p.m. The night train is available for rides daily from 3 to 10 p.m.
Stanley Park is located off Pipeline Road. Enter through the West Georgia Street entrance.
You can buy tickets online, by phone, or at the park.
Nutcracker With Goh Ballet
Watching a performance of the Nutcracker is a wonderful Christmas tradition. This year, the Goh Ballet will perform this classic from Dec. 14–19 with music performed live by the Vancouver Opera Orchestra.
On Dec. 16 and 17, you can purchase tickets for early showings at 2 p.m. and 3 p.m., respectively. All other performances start at 7:30 p.m.
The show is at The Centre in Vancouver (777 Homer Street).
Get tickets online. Prices vary based on seating area.
These are just a few of the many events taking place in Greater Vancouver this winter. There are many more activities in the surrounding areas, so you'll have no trouble finding a celebration to help you feel festive this year. Plan a trip to one of these gatherings in GVRD, and get ready for a very merry holiday.
Glow Christmas
In the Fraser Valley, be sure to visit Glow Christmas, a crafted and curated Christmas event for the entire family in Langley, with events from mid-November through to December 30th, at Milner Village Garden Centre.
Bring together the people you love and explore our four Christmas-themed light gardens. Take a stroll through our musical light tunnel, where you'll feel the warmth and wonder of the Christmas season, under the glow of over 500,000 lights.
Kids can help Santa locate his lost presents scattered throughout the light gardens while parents amble through the Christmas market. And no holiday event is complete without treats and a cup of cheer. Sample the goods from our food vendors, grab a drink at the bar, and enjoy a few snacks from one of the many food trucks.
It's all the magic and wonder of an outdoor light exhibit, hosted in a bright and spacious greenhouse. Enjoy the best of this holiday season at Glow.
For more events, both seasonal and other, be sure to see our community events page which includes events from every community served by 123Dentist.