Two 123Dentist offices have been instrumental in raising money for cancer research by participating in the Ride to Conquer Cancer.
Wesbrook Village Dental and Downtown Dental have each fielded riders in the 2-day event that sees riders bike over 200 kilometres to raise money for cancer research.
Better Outcomes 2
The "Better Outcomes 2" team was founded 7 years ago and has participated each year since. In 2017, the team raised over $85,000.
Although not widely known, oral cancer affects over 300,00- Canadians each year. Our team is keen to welcome new riders, donors, and sponsors each year. To learn more about the Better Outcomes 2 team please visit their Facebook page.
The 2018 ride will be their seventh year in the ride and over those years have raised over ninety thousand dollars. Cancer affected many family members, colleagues, and friends of theirs over the years and it is for them that they continue the fight. They are hoping to break through the $100,00 fundraising mark this year.
The 2017 Ride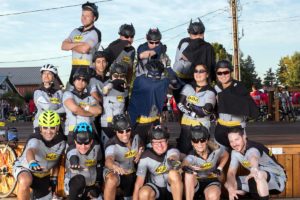 In order to pay tribute to the actor Adam West who passed away from cancer in 2017, our team rode as Batman this year. Mr. West played Batman on U.S. television in the 1960s. The bat themed outfits proved to be such a hit we are planning on repeating it again for the 2018 ride.
B.C. Ride to Conquer Cancer
The 2018 ride will be the tenth year of the B.C. Ride to Conquer Cancer and the first time it will stay 100% in Canada. The ride itself involves cycling well over 200 kilometres over two days. The Ride to Conquer Cancer has united an unparalleled community of powerful men and women across Canada, who are committed to conquering cancer in our lifetime.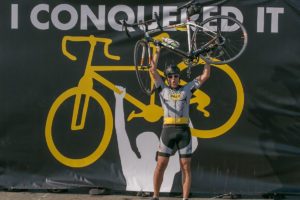 Collectively raising over $339 million, The Ride has provided vital funds in support of the doctors, researchers, and caregivers on the front lines of the battle against this horrible disease. With nearly 85,000 Riders rallied and more than 66,000 kilometres covered since its inception the ride continues with all involved dedicated to conquer this disease once and for all. Learn more at: www.conquercancer.ca
We want to say congratulations to this year's riders, and we wish you the best for the 2018 ride.