The Vancouver Canucks have had their ups and downs this season. After last season it went without saying that fans had grown a little tired of bad playoff performances year after year, despite a recent near flawless run at the Stanley Cup opposite Boston. Last year was a disappointment. Suffice to say, expectations have been tempered this year, with controversial trades and a recent coaching suspension not boding well for the beleaguered team.  It's been a roller coaster of a year, but currently the Canucks are within reach of the playoffs. They will always be our team, and here are some great reasons you shouldn't count them out or stop cheering this season.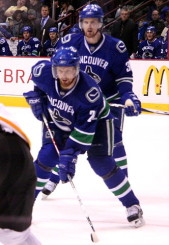 The Sedin Twins Are Still Great
Henrik and Daniel might not be playing at the same level they were three years ago, but they are still two of our best players and two of the most skilled players in the game today. When they are playing in sync, almost no one can stop them. If you've soured on the Sweeds, just remember that our stars are still front and centre in Sweden's Olympic line up and are still among the best forwards in the NHL, even in a slump.
John Tortorella Cares About Us
A little while back, you'll remember our new coach reacting to a strategy by the Calgary Flames with an unprovoked and emotional scene outside the Calgary locker room. The incident was caught on camera and Tororella was suspended when the Canucks needed him most. But what the media often forgets to mention is that Tortorella was reacting to a dirty strategy by the opposing team and was standing up for his players and clean hockey. Was he right to do what he did? Absolutely not, but that passion didn't go unnoticed and fans have rallied around the Vancouver coach.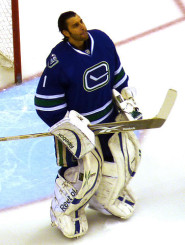 Admit it, Roberto Luongo is Winning You Over
When it was announced that the Vancouver Canucks would hold on to Roberto Luongo and trade Cory Schneider last fall, fans were shocked. Heck, so was Roberto Luongo. Nobody was mistreated more than Luongo in the previous season. Effectively replaced as starting goalie by Cory Schneider in 2012-2013 it was everyone's expectation that Luongo would end up back in Florida or find a new home somewhere else. But it was not to be, and Luongo stepped back up, bringing a great sense of humour along with him. This season he's performed better than expected overall, and outplayed his would-be replacement Schneider.
The Olympic Break
Every time the Olympics break up the NHL schedule, momentum shifts. The delay had a negative effect on the momentum of many top ranking teams in 2010, but this year Vancouver finds itself with the opposite problem. Can it use the shift and the break to re-focus and re-calibrate as a team? We're optimistic and think that the break will do wonders for the four Canucks playing in the games. From where they sit right now, almost any change will be a good change.
The Underdog Story
Sure it's fun to root for the unstoppable juggernaut that wins  the conference, but isn't it more exciting to wait with bated breath for the team to make the bottom four? The fact is, lower expectations combined with a surprisingly robust performance in the last month of the regular season can often be the momentum builder a team needs to make it into the later rounds of the playoffs. Canucks fans don't have high expectations this year, but that ability to come from behind and surprise might just return Canucks fans to their normally passionate highs.
So cheer for the Canucks this spring, there is every possibility they could surprise you. And even if they don't, they're family and we here at 123 Dentist think you should always root for your family, especially when the times get a little rough.