Have you ever wondered what 123 Dentist is all about?
123 Dentist isn't a dental clinic–we're a community of dental clinics that are located across the lower mainland for your convenience. Our wide network allows patients to find a friendly and caring dentist that can help maintain your healthy smile.
Article Quick Links:
We love making people smile every day! Our 123 Dentist community members work together to create the perfect environment for you. When you walk into a 123 Dentist clinic, you will feel relaxed with our soothing, modern "spa-like" ambiance. Your regular dentist or hygienist will provide you with headphones and a TV so you can watch your favourite show during your dental appointment. If you work full-time or you're busy with the kids, we can work around your schedule. Most of our clinics are open on weekends and evenings so you can see the dentists without having to take time off work.
We care about you and your family, and we want to make sure that you feel confident with your smile. When you're looking for a dentist for your family that you can trust, you're in good hands. All 123 Dentist practices abide under a strict set of standards outlined by our community professionals. In order provide the best possible care to our patients, dentists and clinic staff members are required take regular courses to ensure that they can offer dental solutions that reflect modern dentistry practices.
We have over 55 clinics located across the mainland and we work together to give you a unique set of benefits. For instance, if you visit a 123 Dentist clinic that doesn't provide a service that you need–they will refer you to another 123 Dentist clinic close by that will. If you are planning to move– we can transfer files in between our practices to make sure your new dentist has your previous patient history. If you'd like to read more about the benefits of visiting a 123 Dentist clinic, visit our website.
Beyond providing excellent dental services, 123 Dentist community members are constantly participating in community fundraisers and events within the lower mainland. Our community is important to us because it allows us to get to know our patients more and give back. Keep reading our blog to find out what we've been up to in your community lately and keep a lookout for a 123 Dentist event near you!
Learn more about the 123 Dentist network by watching our video, featuring actual 123 Dentists.

Tooth Fairy Visits
At 123 Dentist, we love being a part of our community! Participating or hosting local events give our friendly staff members a chance to meet local residents in our community. We're a family friendly group of people, so bring the whole family to our local events for some family fun.
Summer vacation is fast approaching and you may find yourself looking for fun ways to spend time with the kids. If your child would like to meet the tooth fairy, then you're in luck. From May to July, the tooth fairy and Sonic 104.9 will be visiting 123 Dentist clinics across the lower mainland.
During our events, we've been offering prizes, gift bags, appetizers and beverages to participants. We would love to meet you so stop by one of our tooth fairy events. Make sure to take a picture with the tooth fairy and share it with us by posting it on our Facebook page.
Every 123 Dentist clinic is unique and special ─ and so are our tooth fairy events. Each clinic will be offering different promotions and contests so no two events will be the same.
We hope you're as excited as we are about meeting the tooth fairy and we hope to see you at one of our tooth fairy events soon.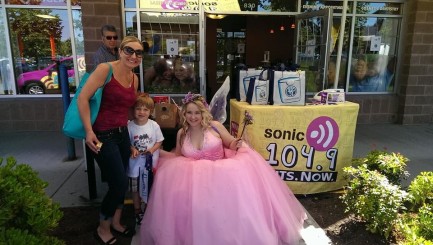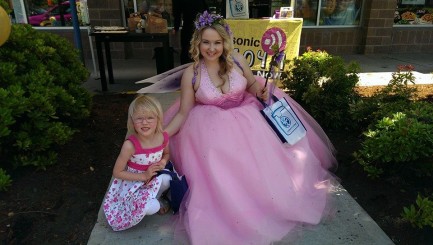 123 Dental Emergency Line
Many of our 123 Dentist locations are open evenings, weekends and even 7 days a week for you convenience. We do our best to fit into your schedule so you can see the dentist regularly and maintain your oral health easily. Between the hours of 6pm and 8 am, most dental clinics are closed so if you have a dental emergency–you usually had to wait until the morning to get some answers.
Dental emergencies can happen suddenly and without notice. Whether it's a sudden tooth ache or a chipped tooth, most of us have experienced it in some form. When you have a dental emergency, many people don't know what to do or where to go—especially if it happens after hours when all the dental clinics are closed. That's why 123 Dentist created the After Hours Dental Emergency Line.
When you have a dental emergency, we'll help you through it because we care about your oral health and your peace of mind. Our After Hours Dental Emergency Line is open 6pm to 8am, 7 days a week for your convenience. It's a free service that allows you to speak to dental professional regarding your dental emergency.
When you call our Emergency line and speak to a real dental professional, we'll help you understand what you should do and what you shouldn't. We can also help you book the soonest possible appointment so you can get your emergency resolved right away.
If you have an after-hours dental emergency, call 604-805-2500 and we'll help you through it!

Complimentary VELscope Screening Days
Did you know…
Oral cancer claims one life every hour. A VELscope exam takes 5 minutes and can save your life!
In honour of Oral Health Month, 123 Dentist and Willow Care Dental offices set out to increase awareness of oral cancer by offering FREE VElscope Exams on April 16th and 17th. As dental professionals, we were committed to support the fight against oral cancer so instead of collecting our standard fee for our VELscope screening process, we collected donations to Oral Cancer Research. Together, we raised $8, 164 for oral cancer research.
Thank you to everyone from Vancouver and the Lower Mainland who booked an appointment for their screening and donated to the BC Cancer Agency—we couldn't have done it without you. We screened more people in our community for oral cancer, raised more money for oral cancer and this year's campaign was our most successful yet. We hope to see everyone again next year!
The number of oral cancer diagnoses in North America are increasing. The five year survival rate for oral cancer is 52%–but it increases to 80-90% if it is discovered early. Our 123 dental professionals urge all of our patients to get regular VELscope screenings to ensure that they have good oral health.
A VELscope screening is a quick and non-invasive way to screen your mouth for abnormal tissue. The examination itself only takes one to two minutes. Your 123 dentist will scan your mouth with the VELScope hand piece and look for differences between normal and abnormal tissue. If any abnormal tissue is found, your 123 dentist will order a biopsy to determine the exact nature of the tissue.
If you missed our VELScope Screening Days, you can still get a VELscope exam at a 123 Dentist location near you. Early detection is the key to oral cancer prevention so make sure you book soon!
To learn more about our VElscope Screening Days Event, watch our video below :