Find clinics providing emergency services.
Find resources for dealing with dental emergencies that may occur during the Covid-19 crisis.
Find information and tips for understanding and coping with your family's social distancing.
---
Announcement
At 123Dentist, the safety of our patients, dentists and staff are our number one priority.
The Challenge:
Due to the possibility of aerosol (airborne) spray during treatment, our dentists, assistants and hygienists are among those at the highest risk of contracting the virus during the COVID-19 crisis
When healthcare workers contract the virus, they put their patients at risk.
Our Response:
Many of our offices across the country have followed the guidance of our regulatory authorities and are cancelling or suspending all non-emergency treatment.
In many cases, offices have closed completely, and in some cases, they are operating on reduced hours and are treating emergencies only.
By continuing to treat patients who are in trauma and/or in pain, our dental professionals are helping to relieve pressure that would otherwise be placed on hospital emergency rooms.
What you need to know:
If you require urgent dental care, please contact your regular dentist, and if they are not accepting emergency cases, contact one of our clinics providing emergency services.
Thank you for your understanding, and we wish you and your loved ones the very best during this challenging and difficult time.
---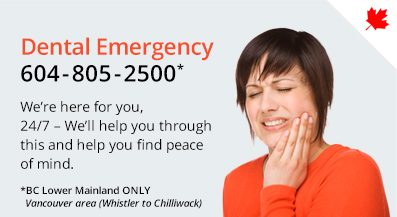 NOTE: If you're experiencing a dental emergency in BC's lower mainland, you can call our 24/7 emergency line at: 604-805-2500